Friday, July 25th, 2014 at 12:30 am
by Judy Ellis, Wire-Sculpture.com
Wire Jewelry Tip for July 25, 2014
The Birth of 200 Thousand Jump Rings!
Today I thought we'd talk a little bit about a very useful, and yet (perhaps) under appreciated metal finding. The Jump Ring!
What is a Jump Ring?
Jump rings are small metal circles with a cut that allows them to be opened to connect pieces together and then closed again to secure them.  Jump rings are useful for connecting clasps and charms or joining two findings that won't attach to each other directly.
Jump rings can be used in a series to form a chain-like design or they can be grouped in clusters.
How are Jump Rings made?
Here at Wire-sculpture, we make a lot of our jump rings by hand, so I thought I'd share a few images of what the "birth of a jump ring" looks like.. from start to finish!
| | |
| --- | --- |
| Step 1. Twisting copper wire to create a coil. | |
| Step 2. Coiled Wire | |
| Step 3. Layers of coiled wire, ready to cut. | |
| Step 4. Final jump rings, after cutting and tumbling. | |
After cutting, we count and package and sent them off to you!
How do you handle a jump ring?
To open or close a jump ring, it's easiest to use two pairs of needle nose pliers.  If you have one pair, you can hold one side with your fingers.  If there is a gap, close it by moving the sides up and down pressing gently together.  The ends should overlap then snap together tightly so the tension of the metal will hold the gap closed.  When you open a jump ring (or any loop) twist it open rather than pulling it open so it will hold tight when re-closed.
Why so many jump rings?
"La-Te-Dah" is a phrase we've been using around our warehouse a lot the last few weeks! Why? Because we just announced a NEW series of DVD's by Patti Bullard called the Wire & Pliers Series. One of it's main components is the "La-Te-Dah" Interchangeable Jewelry System When you order the Complete Wire & Pliers DVD Series you also  get the  FREE Supply Kit.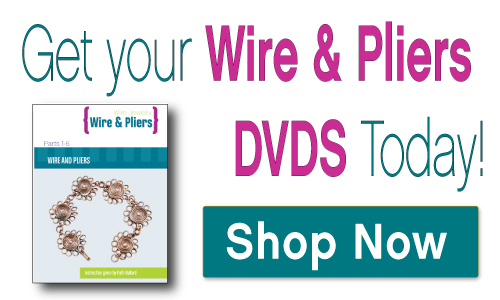 Here's everything included in the supply kit:
5 feet of 16-gauge copper wire for links, charms, and clasps…
18 inches of 18-guage round dead soft copper wire for the charms
3 feet of 20-gauge round dead soft copper wire for charms and ear wires…
30 jump rings, 18-guage 4.0mm ID copper jump rings
A handpicked assortment of beads, spacers, and bead caps
Copper Headpins
Copper Ear Wires
16-guage 6.0mm ID jump ring for pendant
All the Jump Rings you need for your extender chain
Here are a few photos of some of the finished jewelry that you can create with the DVD Series and the Supply Kit.
| | |
| --- | --- |
| | Copper Wire bracelet with Jump Rings and Beads |
| | Silver Wire Bracelet with Jump Rings and Handmade Venetian Glass Beads. |
| | |
| | |
Now you understand why we've been making so many jump rings!
If you'd love to try creating this beautiful NEW Interchangeable Jewelry Set, take a look at our Complete Wire & Pliers DVD Series and you too, can get some of our hand cut copper jump rings in your Supply Kit!
Happy Wrapping!